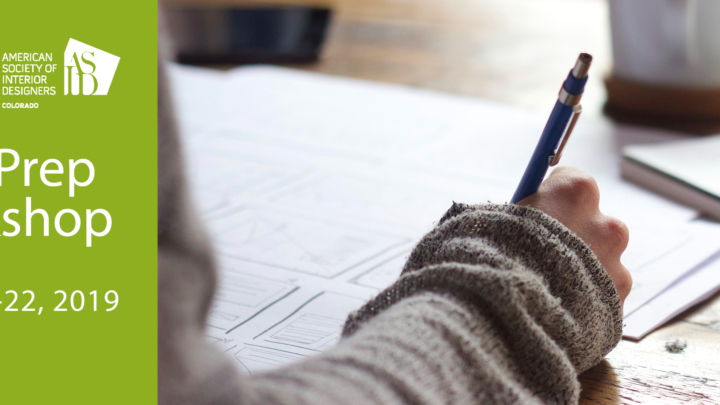 2019 IIDA RMC and ASID Fall Q-Prep Instructed Workshop
Description
Put on your thinking caps! ASID Colorado is teaming up with Phyllis Moore, FASID, former ASID STEP instructor and IIDA RMC to teach a 2-day NCIDQ Practicum workshop. Q-Prep, also known as NCIDQ Workshop, will provide valuable insight on how to complete the exam exercises and offer tips to help you excel. The Q-Prep weekend is focused on helping you: - Understand how to approach and solve the exam from the NCIDQ perspective - Help you understand your strengths and weaknesses and help you develop a personal strategy to minimize your weaknesses and maximize your strengths for greatest exam scores There are limited seats for the workshop so ASID Members will be charged a $100 deposit to enroll and hold your seat; however, this fee will be refunded after completion of the workshop. If you are not currently a member, but would like to JOIN - your ASID Membership will secure the ASID Member Rate for Q-Prep AND give you access to all our events!

2 DAY INSTRUCTED PREP CLASS AGENDA:
SATURDAY | 8:00am - 6:30pm - About CIDQ - Codes and exercises - Useful information - understand what CIDQ is looking for, and how to organize information for all parts of the exam - Large Commercial Quiz - One-on-one supervision and individual help on each exercise - Learn from what others have done, and how they approached each exercise
SUNDAY | 8:00am - 5:00pm - Review Large Commercial Solutions - Review the solutions for the CIDQ Small Commercial Quiz - Study Tips - FX/PX overview.
CLASS DESCRIPTION: The class will review all the codes and make sure you understand them.
NEW THIS YEAR - We have entered into an agreement with CIDQ to provide the solutions to the CIDQ Small Commercial Online exam. We will discuss the content of each question as well as see the answer placement/window as set by CIDQ. We will also practice in class a Large Commercial Quiz developed by QPrep so we can discuss the solutions and how to approach the quiz questions. The workshop will close with a brief review of FX & PX and some study tips, discuss how to study for MC, where you can take practice M/C exams, and discuss the mechanics of how the M/C questions are set up but this will be a very small amount of the weekend. If you have specific questions about M/C, Phyllis will be happy to answer them for you.
Registration includes: A voucher ( that will be emailed to each one individually) for you to take the CIDQ online Small Commercial Quiz PRIOR to class, notebook with codes and illustrations, useful information and general exam information, as well as both a Small Commercial and a Residential take home quiz for extra practice.