2023 Crystal Award Winners

The ASID Colorado Crystal Awards recognizes the best of the best from interior designers across Colorado and New Mexico. We are honored to share the 2023 Grand, Crystal, and Silver recipients in each category. Be sure to scroll through the Winners Book to see the award-winning work.
With over 25 year celebrating the achievements of our community, our annual Crystal Awards celebration would not be possible without our attendees, sponsors, judges, planning committee members, our Board of Directors, past presidents, vendors and all those who entered their work for consideration.
An event of this magnitude happens with an abundance of resourcefulness, creativity, organization, and vision. THANK YOU to everyone that worked so hard helping to transform the DCPA Seawall Ballroom into a magical space!
Photo Gallery
Click here to watch the 25th Anniversary Slideshow Presentation
Click here to view and download photos of the event (Drop Box)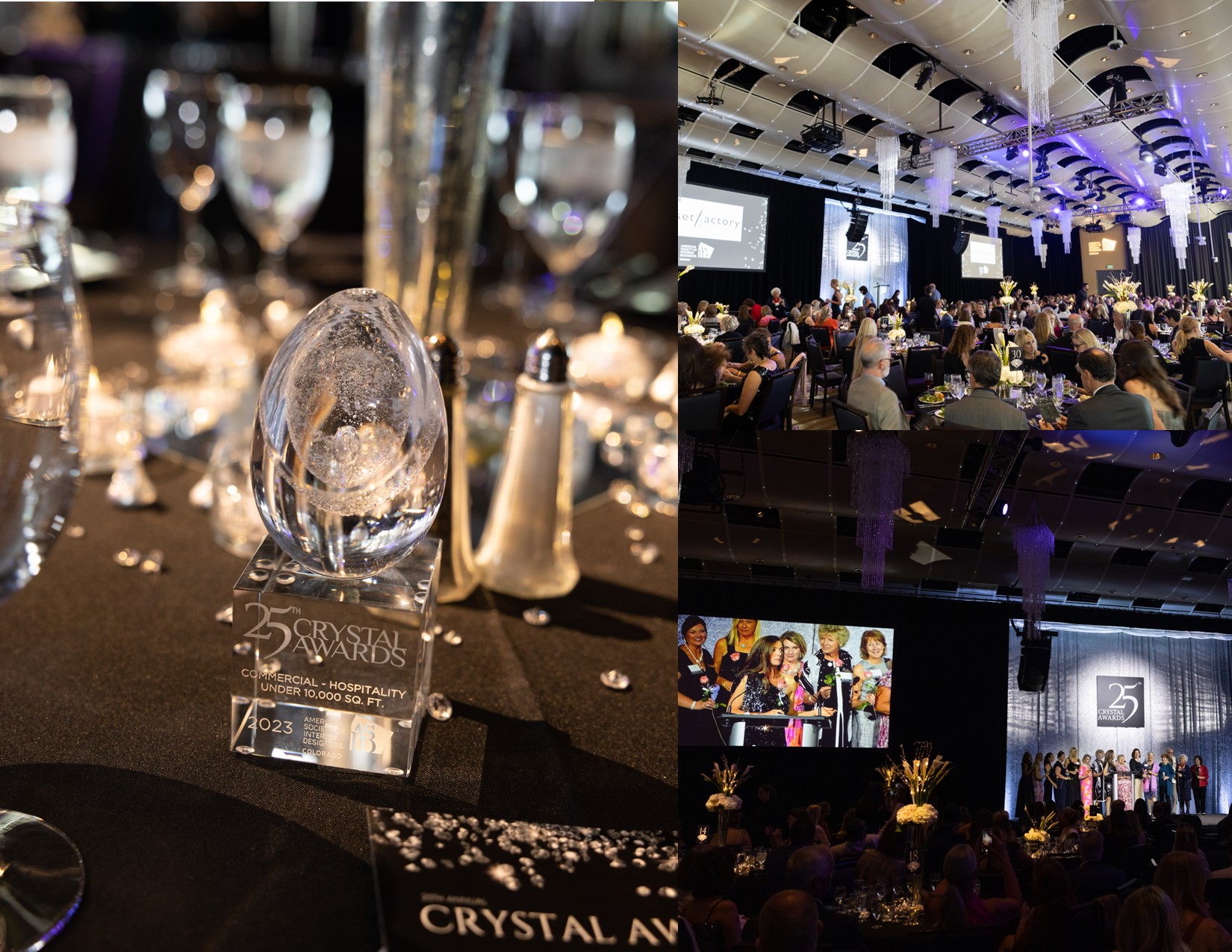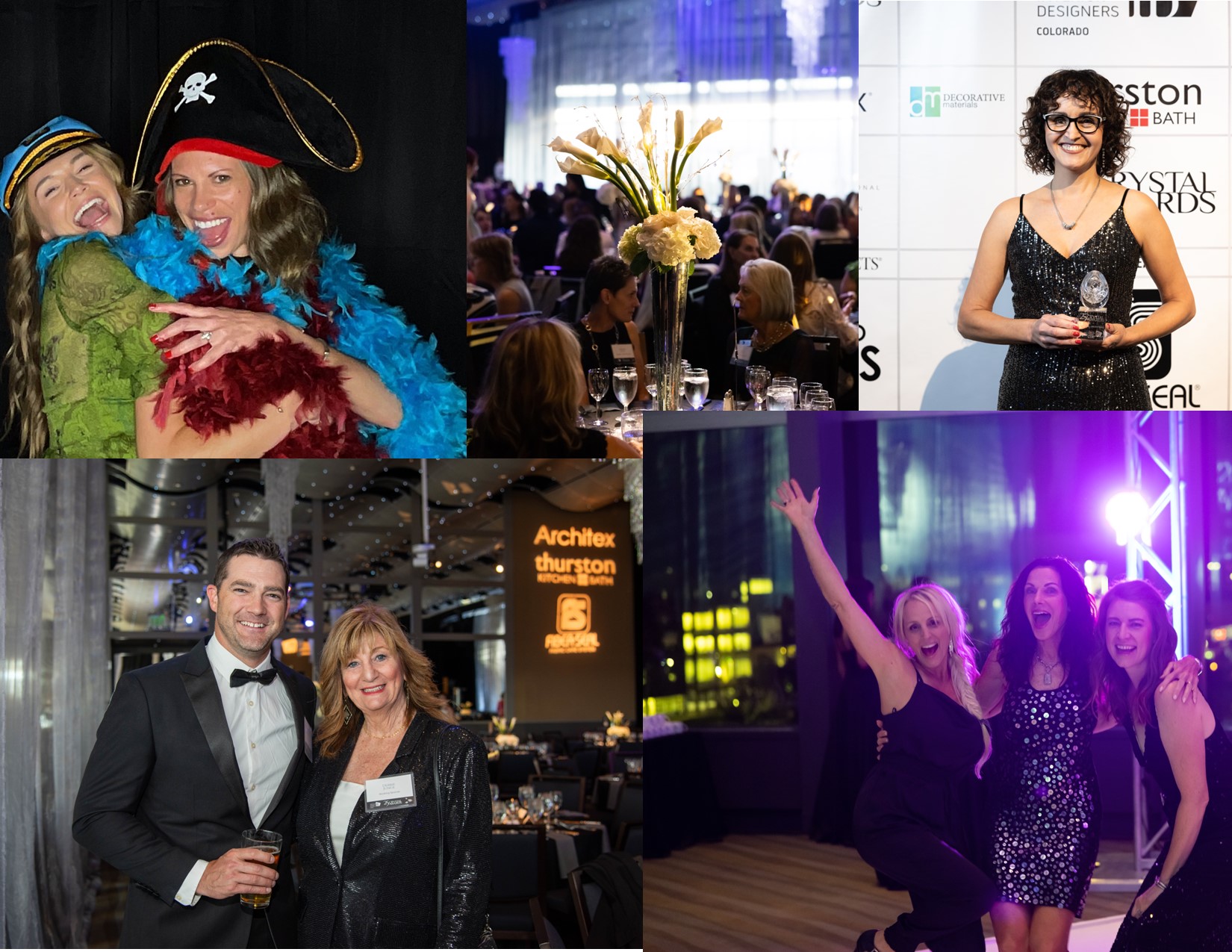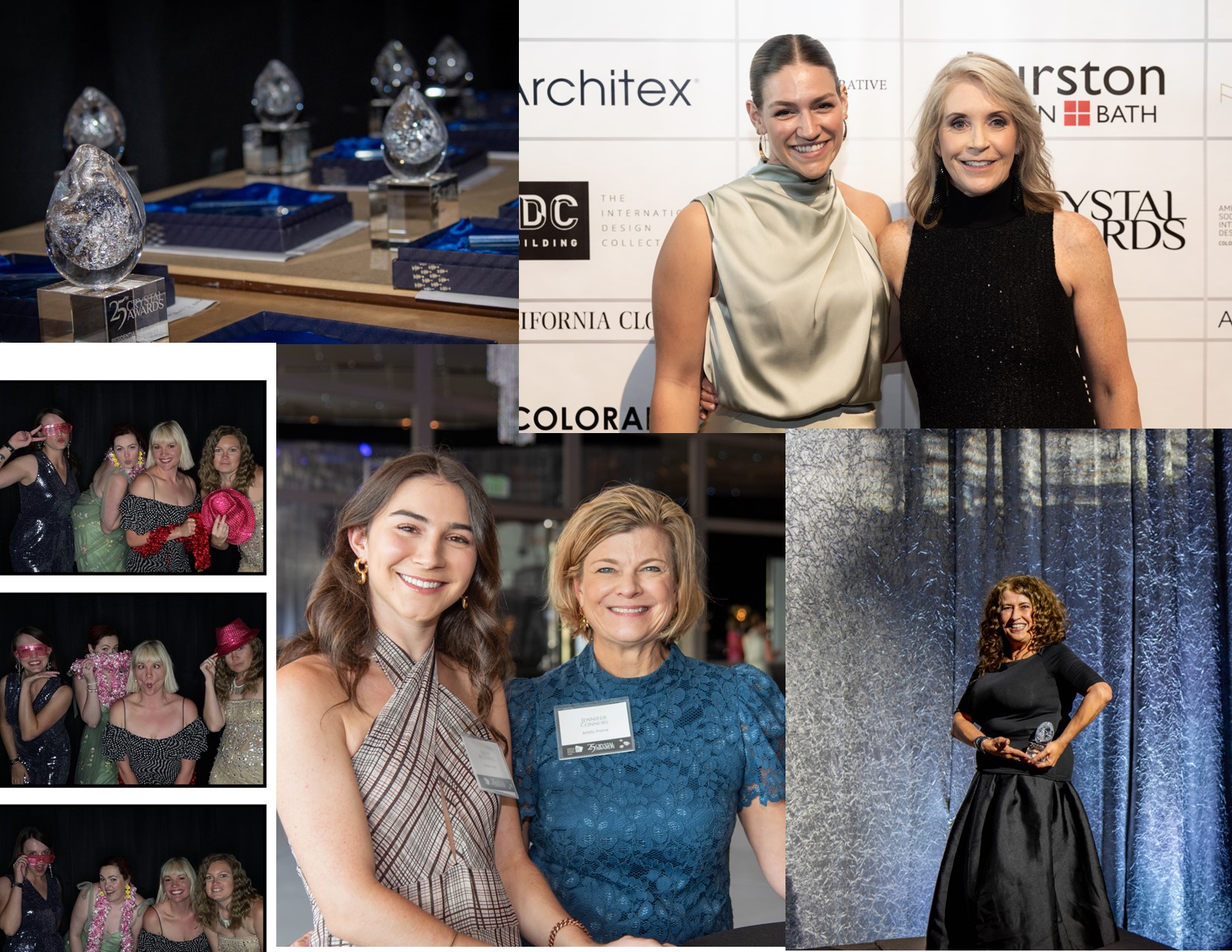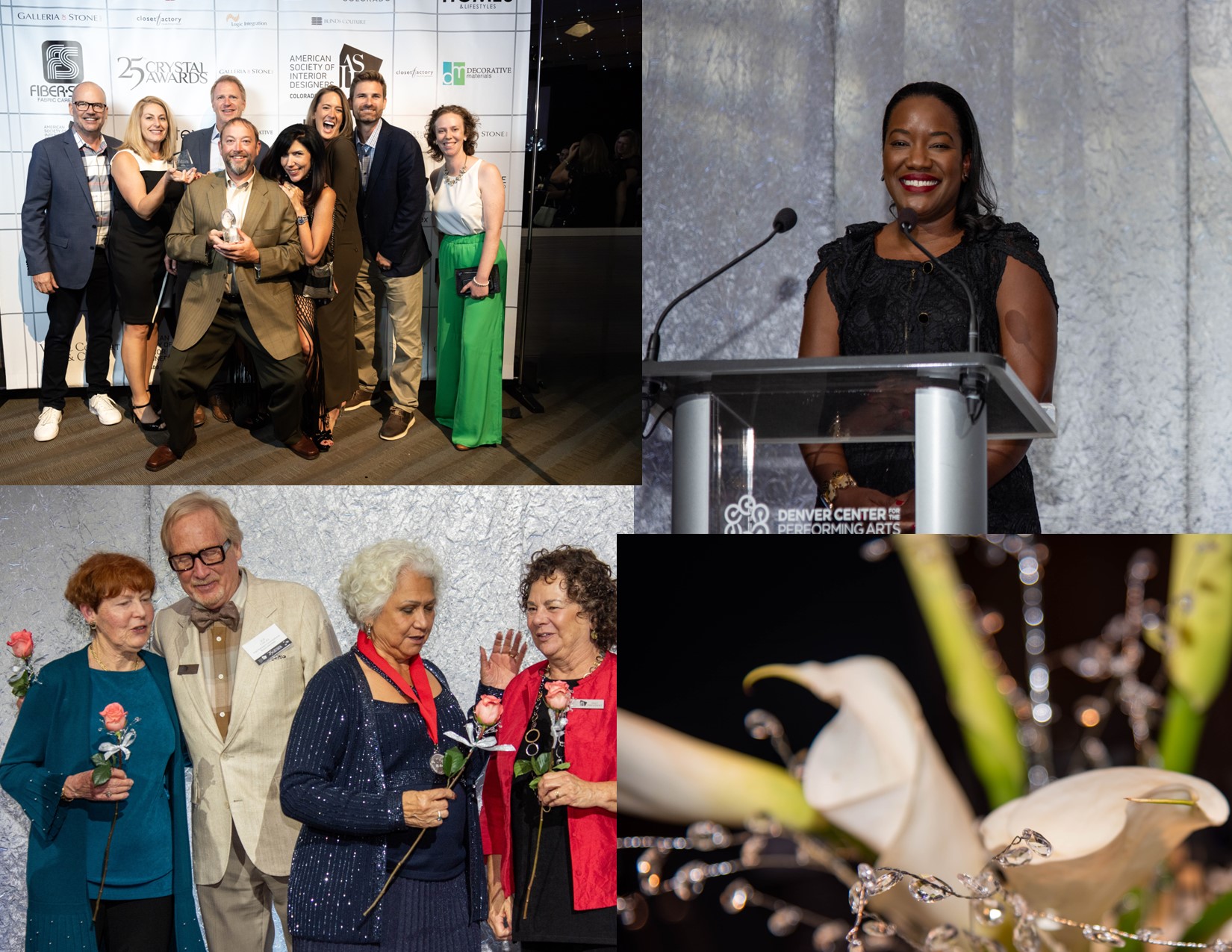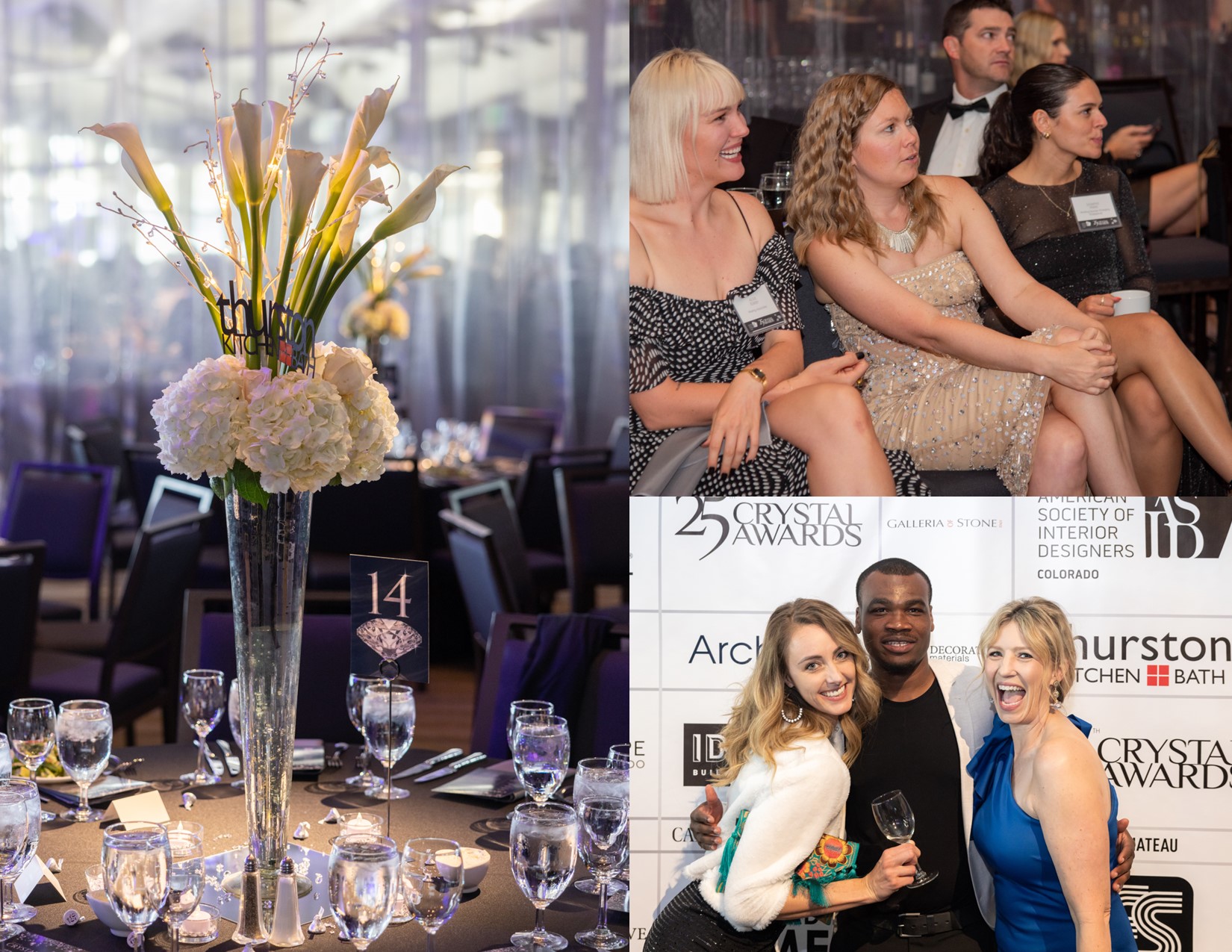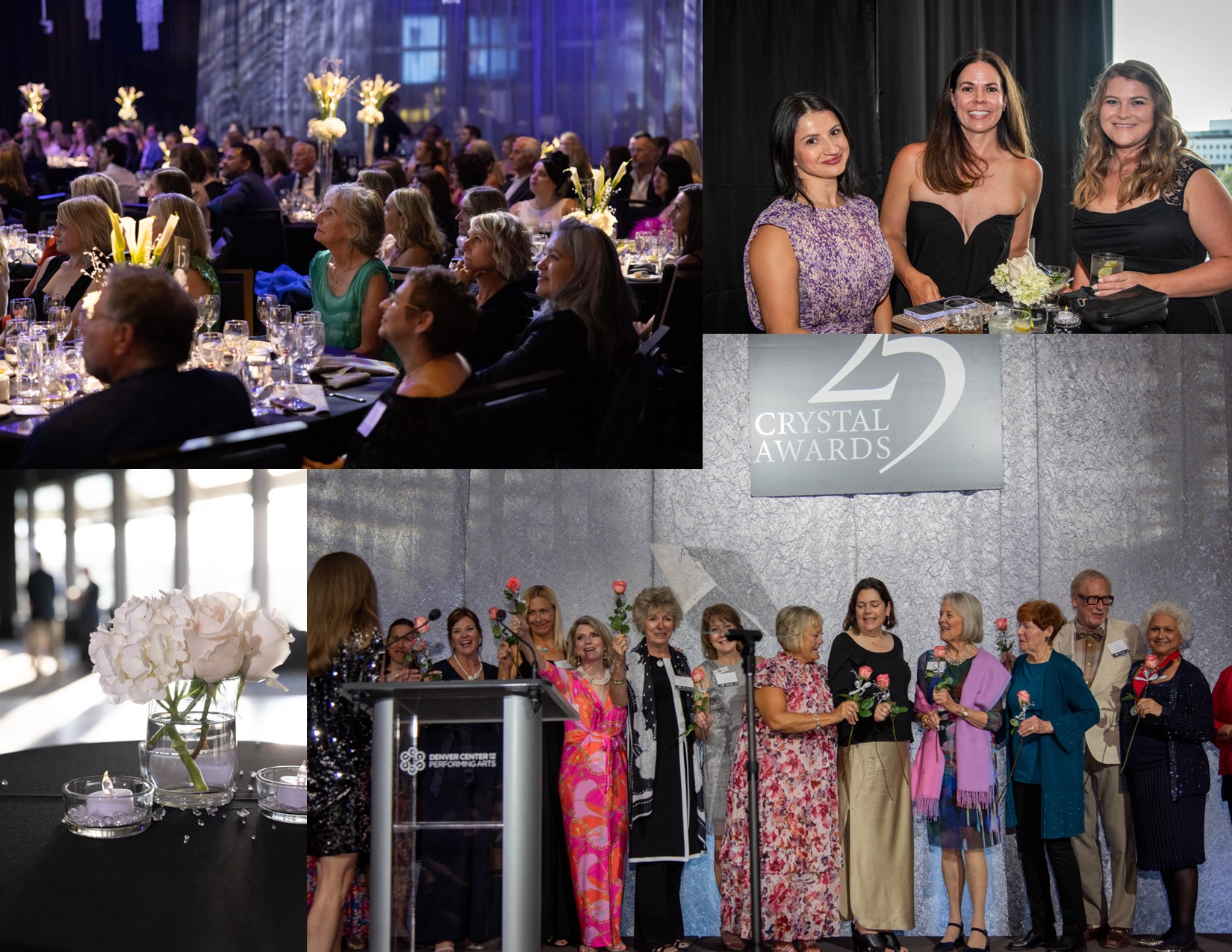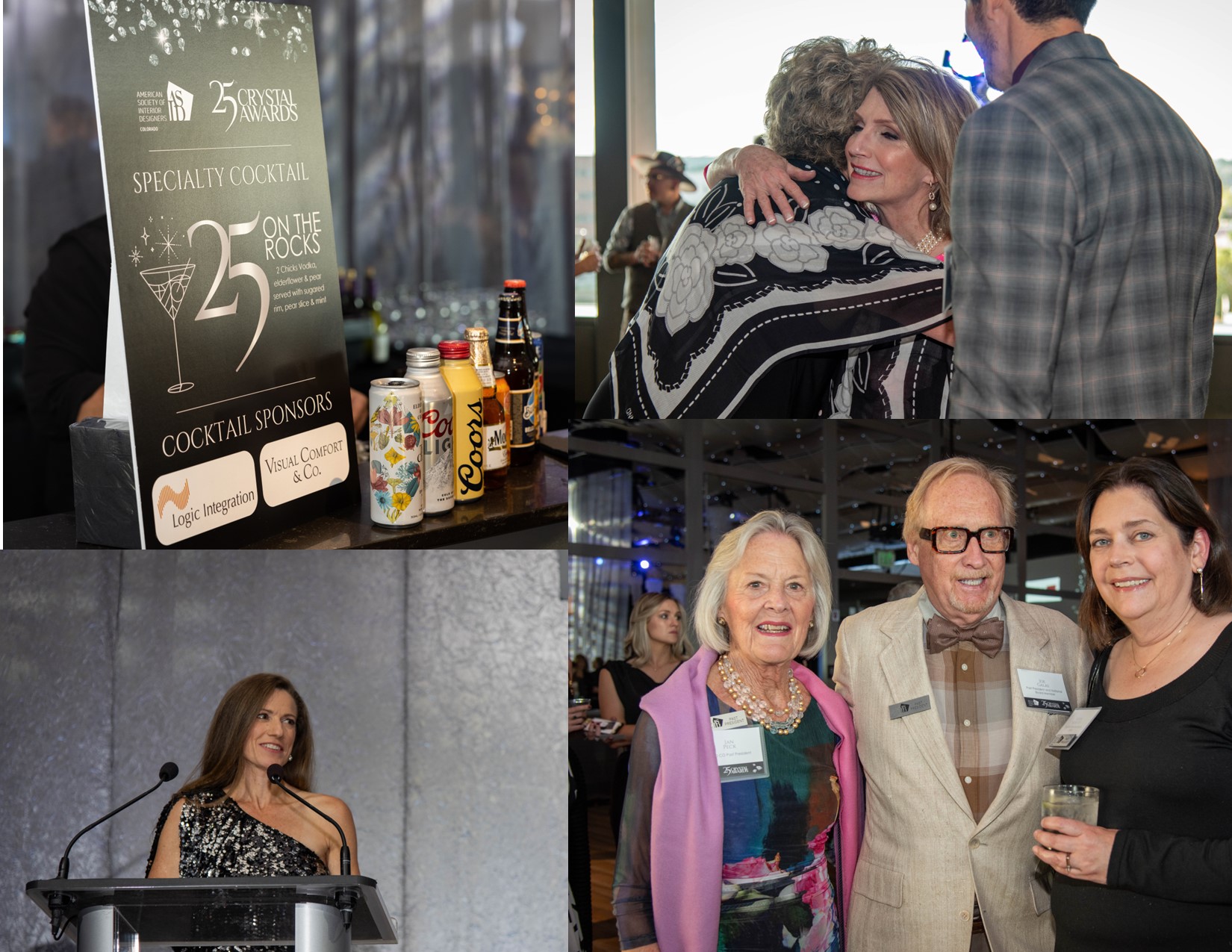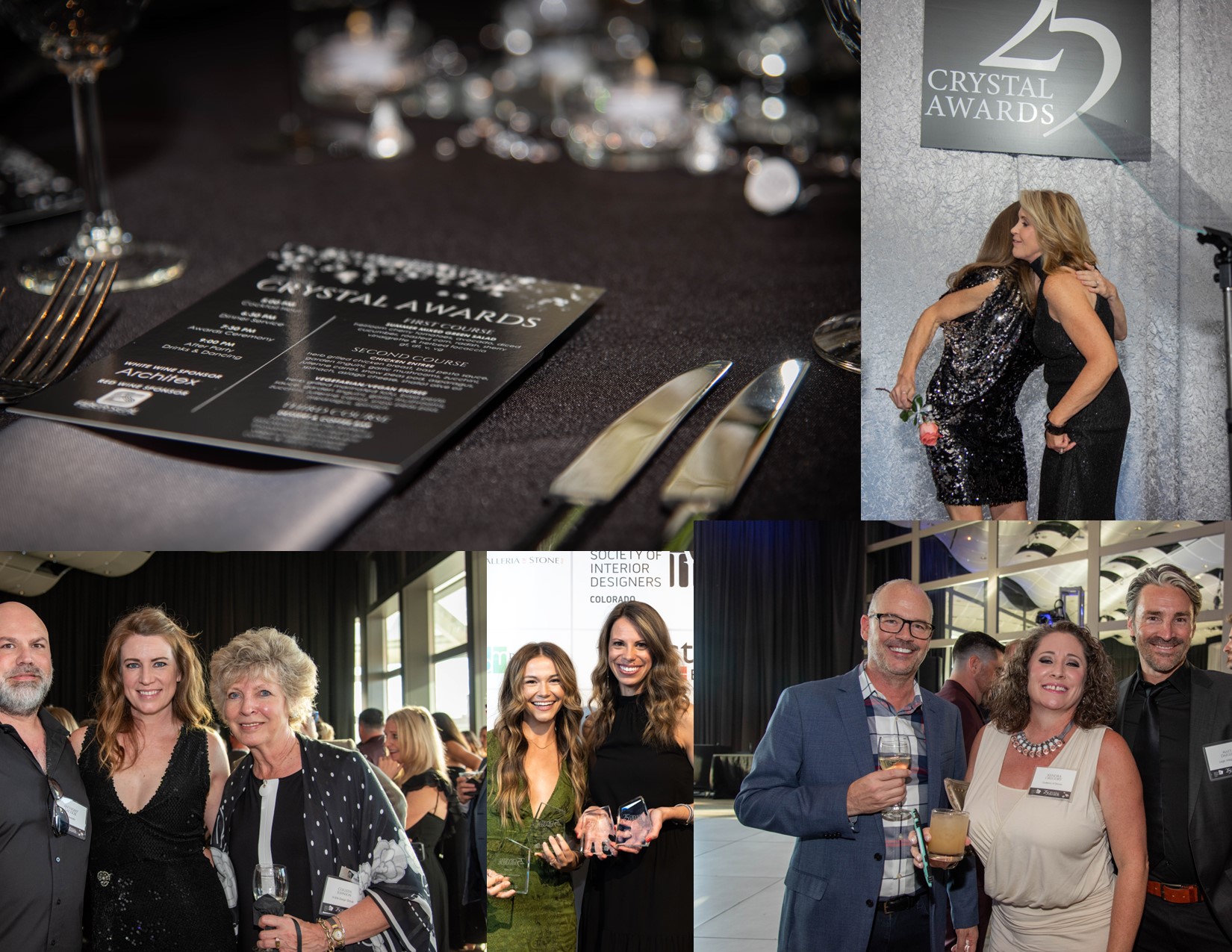 Our Sponsors
2023 Winners
GRAND CRYSTAL AWARD – COMMERCIAL
The French Hotel, New Orleans, LA FAM Design
GRAND CRYSTAL AWARD – RESIDENTIAL
Father of the Bride, Greenwood Village, CO Unscripted Interior Design
SUSTAINABLE
Crystal Award State's Studio, Fort Collins, CO State. Interior Designer: Laura Arledge
Silver Award Mesa Verde Motel Mancos, CO State.
COMMERCIAL – CORPORATE OFFICE OR WORKPLACE – UNDER 15,000 SQUARE FEET
Crystal Award Rubicon Boulder, CO OZ Architecture Interior Designer: Amanda Johnson
Silver Award The Chotin Group Centennial, CO ELSY Studios
COMMERCIAL – CORPORATE OFFICE OR WORKPLACE –15,000 SQUARE FEET & OVER
Crystal Award OpenTable Support Hub Centennial, CO Venture Architecture Interior Designer: Martin Goldstein
Silver Award Crocs Global Headquarters Broomfield, CO Venture Architecture Interior Designer: Martin Goldstein
COMMERCIAL– HOSPITALITY – UNDER 10,000 SQUARE FEET
Crystal Award Lone Rock Retreat Seminar Room Bailey, CO OZ Architecture
Silver Award The Hermitage Hotel Hermitage (Presidential) Suite Nashville, TN ForrestPerkins Interior Designer: Deborah Lloyd Forrest, FASID
COMMERCIAL – HOSPITALITY –10,000 SQUARE FEET & OVER
Crystal Award The Frenchmen Hotel New Orleans, LA FAM Design
Silver Award W Aspen Aspen, CO Rowland+Broughton / Urban Design / Interior Design / Nemaworkshop
COMMERCIAL – HEALTH AND WELLNESS
Crystal Award Northern Nevada Sierra Medical Center Reno, NV Design Studio Blue Interior Designer: Rebecca Brennan
Silver Award OrthoOne Outpatient Orthopedic Clinic Englewood, CO Davis Partnership Architects Interior Designer: Emily Eyrich
COMMERCIAL – EDUCATIONAL
Crystal Award AIMS Community College Welcome Center Greeley, CO Hord Coplan Macht Interior Designer: Michelle Horn, ASID, LEED AP IS+C, WELL AP
COMMERCIAL – PUBLIC ASSEMBLY & GOVERNMENT
Crystal Award Aspen City Hall Aspen, CO Charles Cunniffe Architects Interior Consultant: Gensler
COMMERCIAL – SINGLE SPACE, DEDICATED FUNCTION
Crystal Award Alas Over Lowry Wellness Hub Denver, CO TRIO Interior Designer: Angela Harris, Christie zumBrunnen
Silver Award Bronco Dove Valley Penner Conference Room Centennial, CO OZ Architecture Interior Designer: Tasha Mountjoy, Kelly Gavlick, Montana Hodur, Rebecca Stone
COMMERCIAL– RETAIL
Crystal Award Pennsylvania Design Studio Fort Washington, PA Unscripted Interior Design
Silver Award Farm & Market Denver, CO OZ Architecture Interior Designer: Amanda Johnson
COMMERCIAL – MULTI-FAMILY
Crystal Award Alexan Westery Creek Aurora, CO TRIO Interior Designer: Angela Harris, Christie zumBrunnen
Silver Award Novus Lone Tree, CO Studio 10 Interior Design
COMMERCIAL – CUSTOM DESIGNED ELEMENT
Crystal Award Split-Log Table & Custom Millwork, Kate Miller Jewelry Aspen, CO Anderson Mason Dale Architects Interior Designer: Stephen T. Hall, AIA; Gillian Hallock Johnson
Silver Award Bronco Football Sign Centennial, CO OZ Architecture Interior Designer: Tasha Mountjoy, Kelly Gavlick, Montana Hodur, Rebecca Stone
RESIDENTIAL – NEW CONSTRUCTION UNDER 5,000 SQUARE FEET
Crystal Award Modern Americana Peca, UT Unscripted Interior Design
Silver Award Panorama House Boulder, CO HMH Architecture + Interiors Interior Designer: Leah Civiok
RESIDENTIAL – NEW CONSTRUCTION UNDER 5,000 to 10,000 SQUARE FEET
Crystal Award Good Livin' Ranch Woody Creek, CO Aspen Design House Interior Designer: Denise Taylor, Geneva Podolak Knox
Silver Award Modern Farmhouse Snowmass Village, CO Karen White Interior Design
RESIDENTIAL – OUTDOOR LIVING
Crystal Award Rooftop Doubleheader Denver, CO Lifescape Colorado Interior Designer: Ariel Gelman
Silver Award Ski Retreat Penthouse Aspen, CO Karen White Interior Design Interior Designer: Karen White
RESIDENTIAL – RENOVATION UNDER 5,000 SQUARE FEET
Crystal Award Aspen Jewel Box Aspen, CO Anne Grice Interiors Interior Designer: Anne Grice, Whitney Norton
Silver Award Dartmouth Residence Englewood, CO Architectural Workshop Interior Designer: Mark Bowers, AIA, LEED AP, NCARB
RESIDENTIAL – RENOVATION OVER 5,000 SQUARE FEET
Crystal Award Father of the Bride Greenwood Village, CO Unscripted Interior Design
Silver Award Mountain View Ranch Carbondale, CO Karen White Interior Design
Silver Award Slope Side Simplicity Remodel Beaver Creek, CO JACOBS + INTERIORS
RESIDENTIAL – KITCHEN NEW CONSTRUCTION
Crystal Award Good Livin' Ranch Woody Creek, CO Aspen Design House Interior Designer: Denise Taylor, Geneva Podolak Knox
Silver Award Modern Farmhouse Snowmass Village, CO Karen White Interior Design
RESIDENTIAL – KITCHEN REMODEL
Crystal Award Farm Marries Function Centennial, CO Ashley Campbell Interior Design
Silver Award Chaplin Residence Greenwood Village, CO Pruett & CO Interior Designer: Jenni Pruett
RESIDENTIAL – BATH NEW CONSTRUCTION
Crystal Award Roaring Haarukka Sauna Woody Creek, CO Menendez Architects + Interiors Interior Designer: Nasrin Nourian Menendez
RESIDENTIAL – BATH REMODEL
Crystal Award Longmont Bathroom Remodel Longmont, CO Bradford Design Group Interior Designer: Jane Bradford
Silver Award Slope Side Simplicity Primary Bathroom Avon, CO Jacobs Interiors Interior Designer: Yvonne Jacobs
RESIDENTIAL – SINGLE SPACE, DEDICATED FUNCTION
Crystal Award Here Kitty Kitty Littleton, CO D'Amore Interiors Interior Designer: Gina D'Amore Bauerle
Silver Award Good Livin' Ranch - Office Snowmass, CO Aspen Design House Interior Designer: Denise Taylor, Geneva Podolak Knox
RESIDENTIAL – CUSTOM DESIGNED ELEMENT
Crystal Award Luode – Walnut Panels Greenwood Village, CO re.dzine Interior Designer: Heidi Mendoza
Silver Award Slope Side Simplicity Fireplace Avon, CO Jacob Interiors
Silver Award Small Space Big Zen Greenwood Village, CO Lifescape Colorado Interior Designer: Todd Diesburg